A MUSICAL TRIP AROUND THE WORLD

Combining history, geography, spirituality and music Georg Gratzer charms the children on their musical trip around the world. They will sing, listen, dance and even meditate. ...read more
AN INTRODUCTION TO INDIAN CLASSICAL MUSIC l For advanced musicians of all kinds of genres!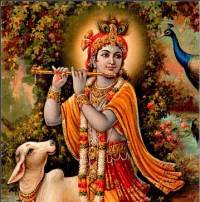 Starting with a short introduction to Indian classical music we learn about Indian melodic & rhythmic.
Using ancient exercises for finding the right tuning of a note we are going to open up our ears.
Playing around with simple Indian classical melodies and rhythmic elements we get a complete new approach to improvisation.






The flute playing Hindu God Lord Krishna

...read more
WHAT IS JAZZ AND WHAT TO DO WITH IT?

An introduction to jazz music for all kinds of musicians with following contents:

1. What is a Jazzstandard?
2. The Songform in Jazz Music
3. The Blues
4. Different Approaches to Jazz Improvisation
5. Reharmonisation
6. The History of Jazz
7. What to do nowadays with Jazz?
...read more